By: Dramabeans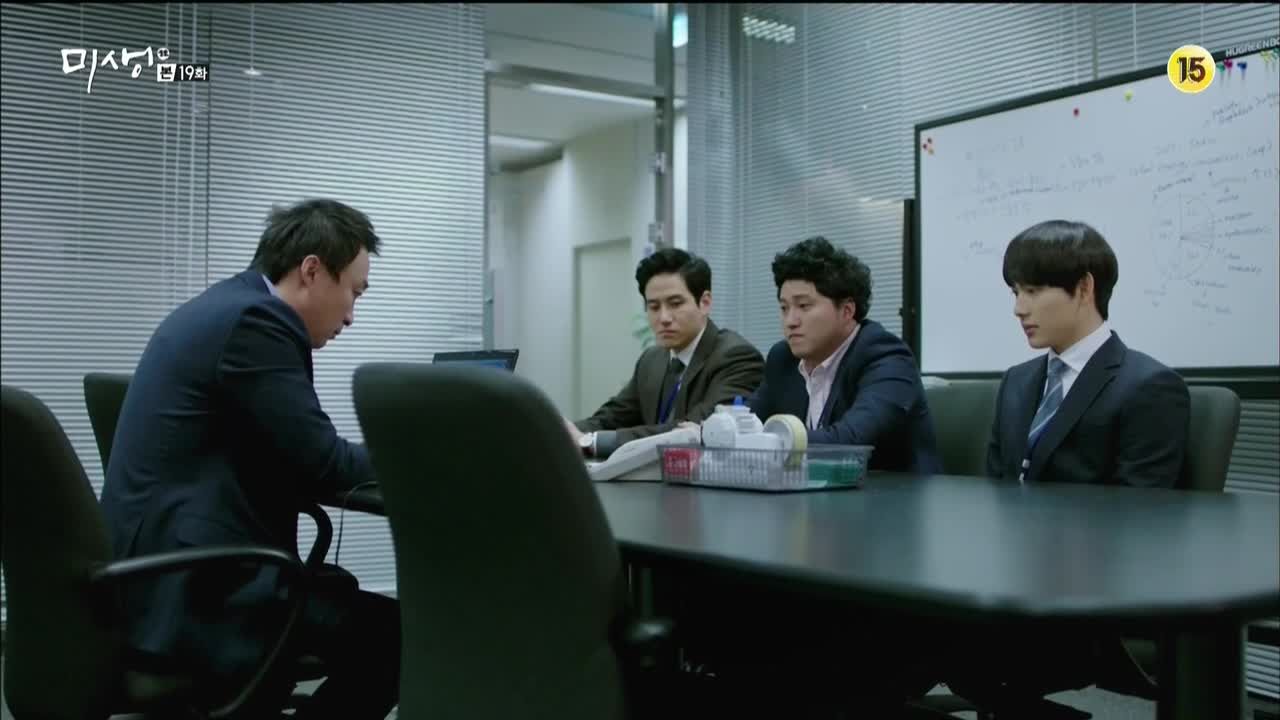 The air is tense as Sales Team 3 convenes to hear the recording of Geu-rae's call with Assistant Manager Seok, the One International representative in China. Chief Oh calls Assistant Manager Seok to ensure that everything is going fine and that the recording of the call is erased. He asks Chief Chun and Dong-shik to leave the room to give Geu-rae a proper scolding and explanation. What he did may have just put their team in more danger.
In the meeting room, Chief Oh says that Assistant Manager Seok isn't in a position to formally take responsibility for his information. Now with Geu-rae voicing suspicions about their contract with Poshin, he may feel anxious and take unwanted action against them. There is also no evidence or grounding for Geu-rae's assumptions on the executive director's kickback. This issue will only get larger, and if it's revealed that the executive director isn't involved in shady business, Geu-rae and the team are in some deep shit.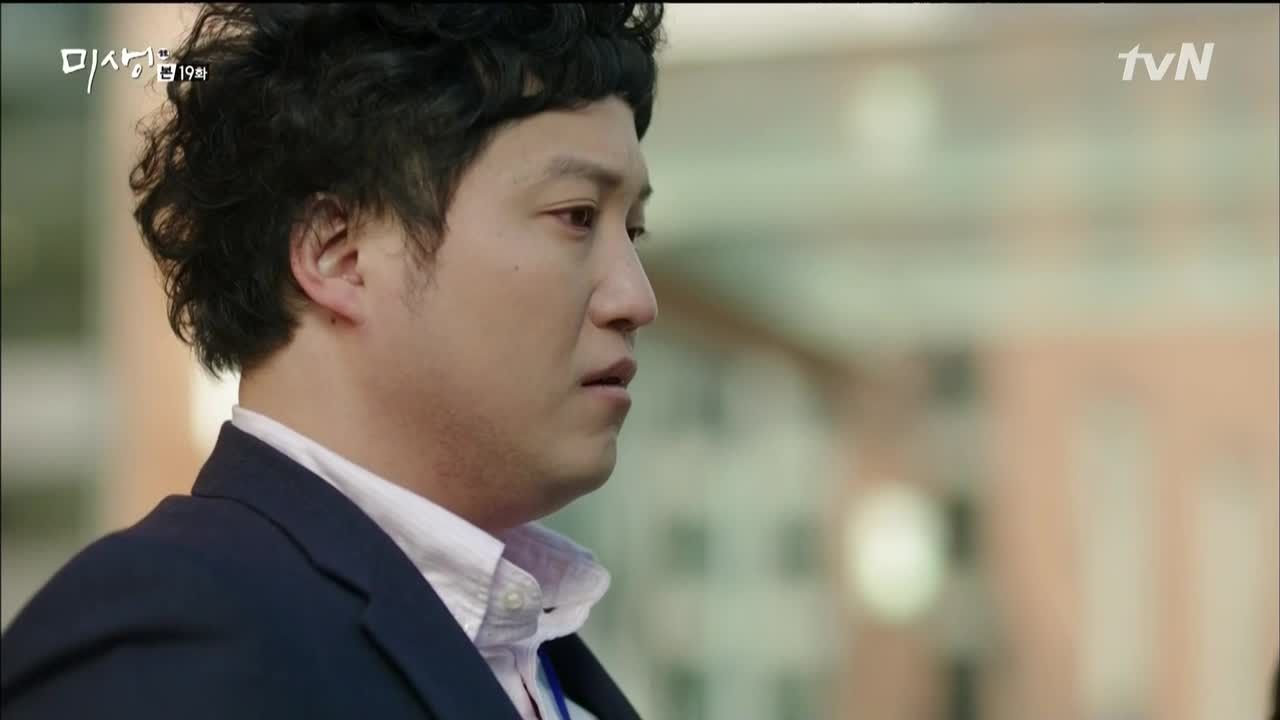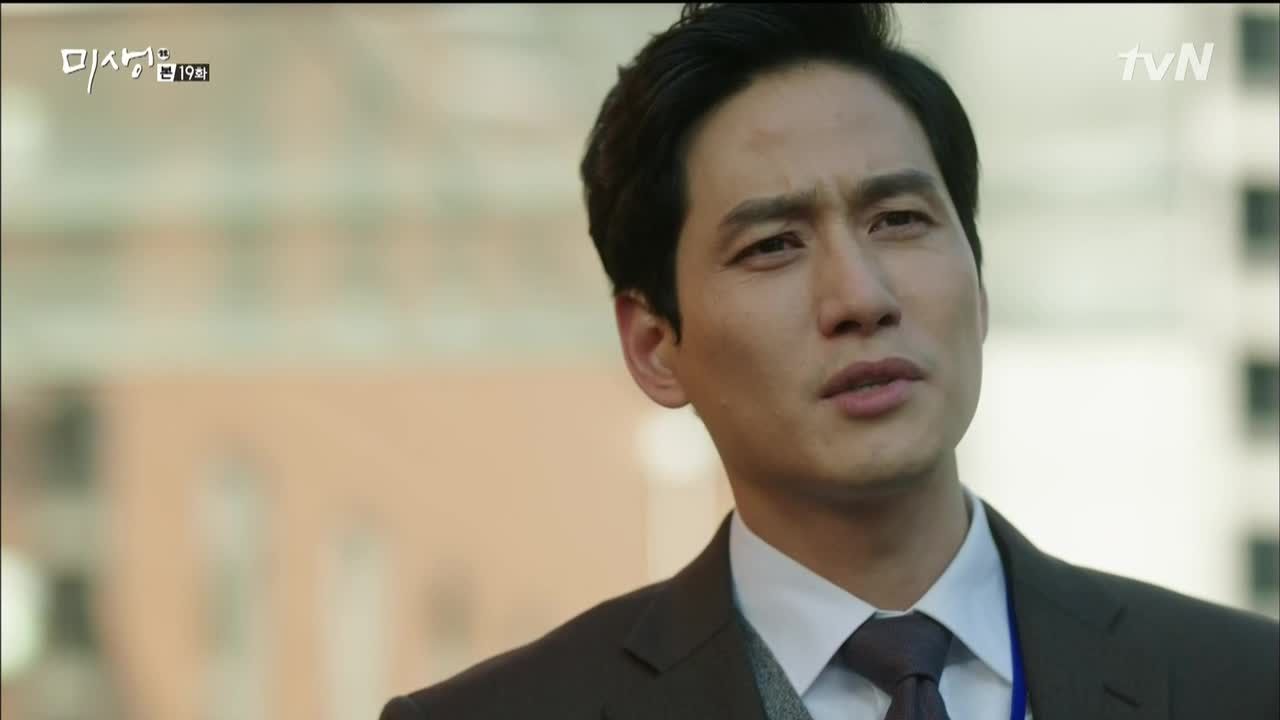 Outside Dong-shik articulates his worries to Chief Chun, saying that Geu-rae's actions may have caused Assistant Manager Seok to worry about his position in this supposed illicit deal. Chief Chun informs Dong-shik that Geu-rae figured out Chief Oh's intentions behind his uncharacteristic undertaking of this project (since he overheard their conversation on the roof). Geu-rae suspected that Chief Oh's blurred judgment was because of him, and he wanted to confirm his suspicions on this project. Only, he did so under the naïve assumption that this would help the team.
When Dong-shik and Chief Chun return, Chief Oh gets onto their next order of business to keep their undercover investigation of this deal in the dark. Chief Chun advises that they go through the motions of continuing this deal to show Assistant Manager Seok that everything is business as usual. In regards to the agency and the excessive commission percentage, Chief Oh decides to meet with the executive director. In the back, meek Geu-rae stands sheepishly with little to contribute.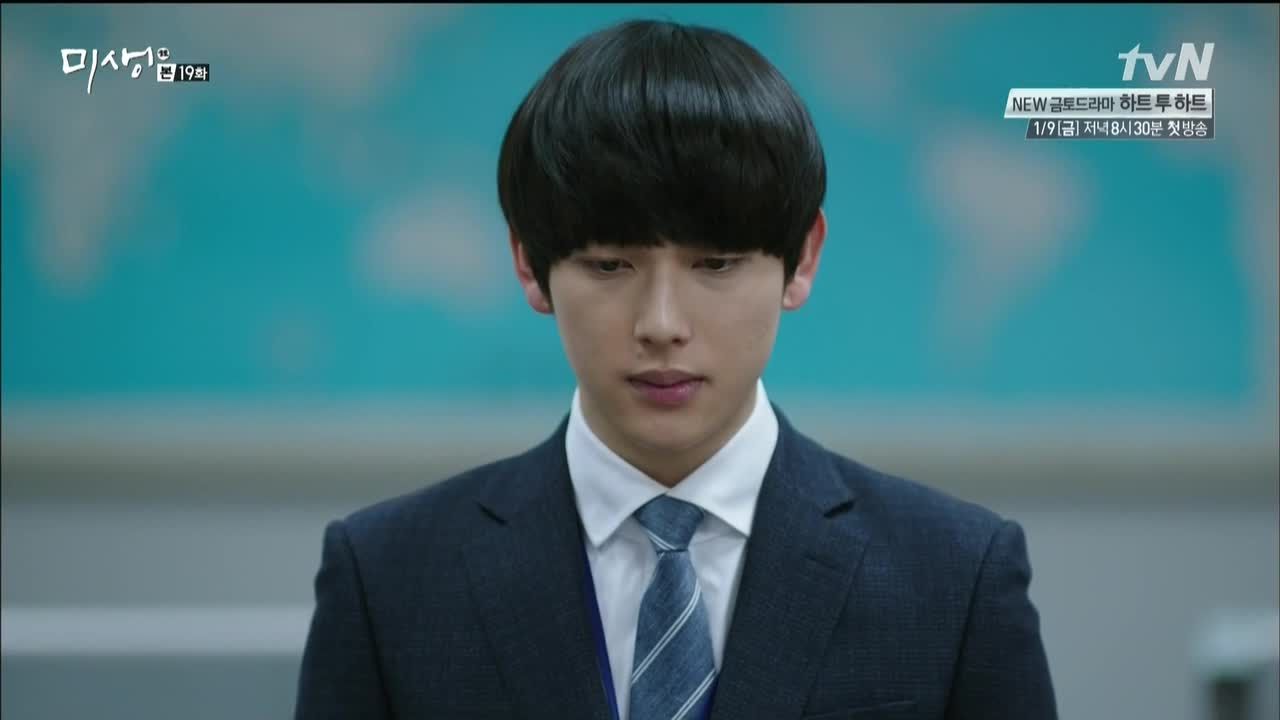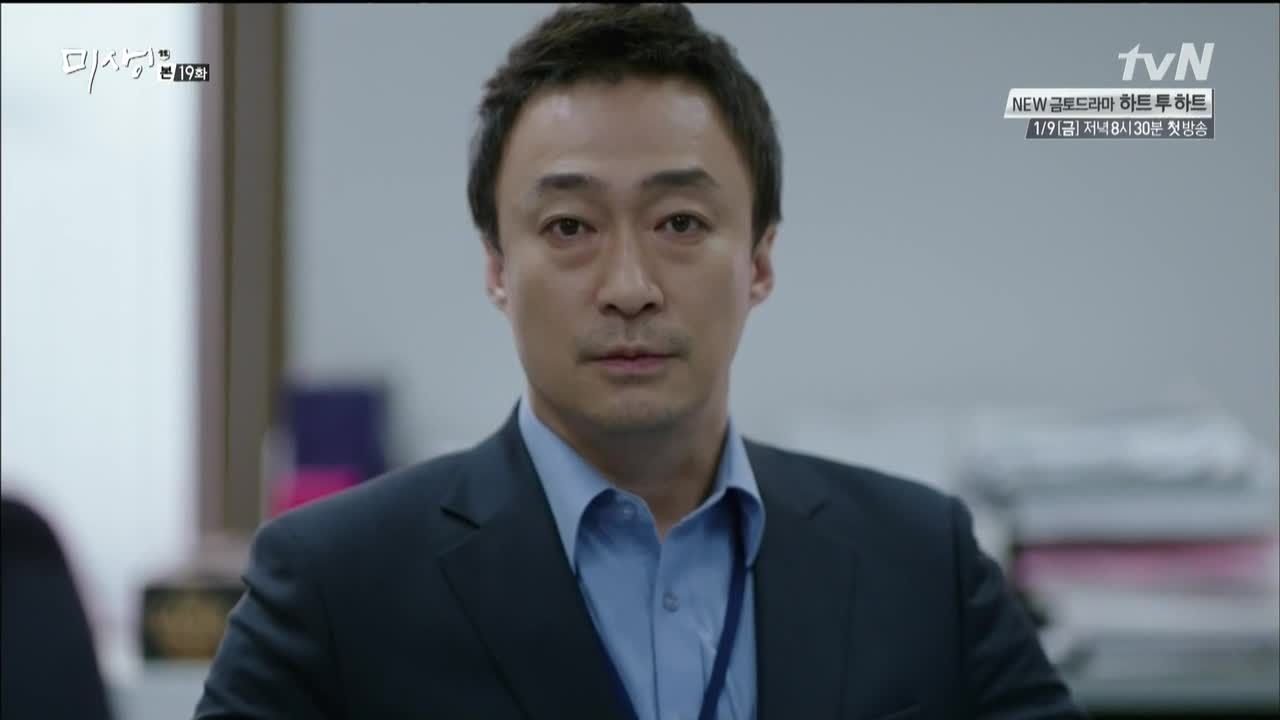 Chief Oh argues that the executive director is going overboard with the guanxi here, but he replies that they need to go to this extent to beat the favors offered by their competitors. Chief Oh brings up the projected low profits, but the executive director vaguely replies that it's a worthwhile business despite that. He continues by telling Chief Oh that he's been at this company for 28 years, during which he made the necessary business connections and delivered timely results to help this company grow to what it is now. This is just another step in that process.
Chief Oh responds with laughter and gets up to give him his resolve. "I respect your role in helping this company grow, no matter what method you used. But for this deal, don't use that method. We will do this our way, with our decision on guanxi in our contract." Before he leaves, he asks the executive director to remove the agent in the deal, or else they won't continue with the successive project that requires this contract to go through. He wants to get promoted, doesn't he? Aw yeah, Chief Oh is back.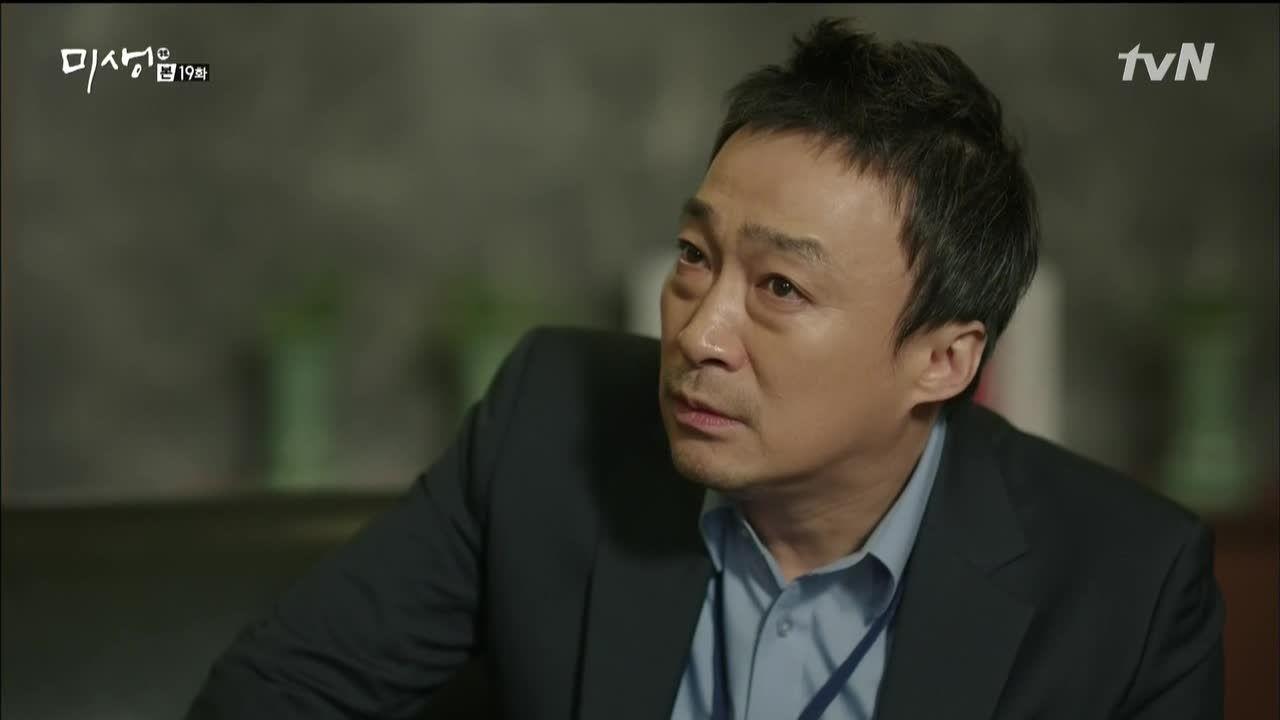 When Chief Oh returns, he orders the contract to be revised, but Dong-shik and Chief Chun worry. They step outside to ask if Chief Oh threatened the executive director, but Chief Oh ensures that things will go in their favor because the executive director undoubtedly wants his promotion.
Chief Chun is called in by the executive director, who asks him what he thinks about the attached agent in the deal. Would the contract without the agent be enough guanxi for Poshin to want to conduct successive business with them? After some hesitation, Chief Chun replies that he doesn't know, but he trusts Chief Oh to lead this project. That's not what the executive director wants to hear, so he resorts to more ammo and asks about Geu-rae.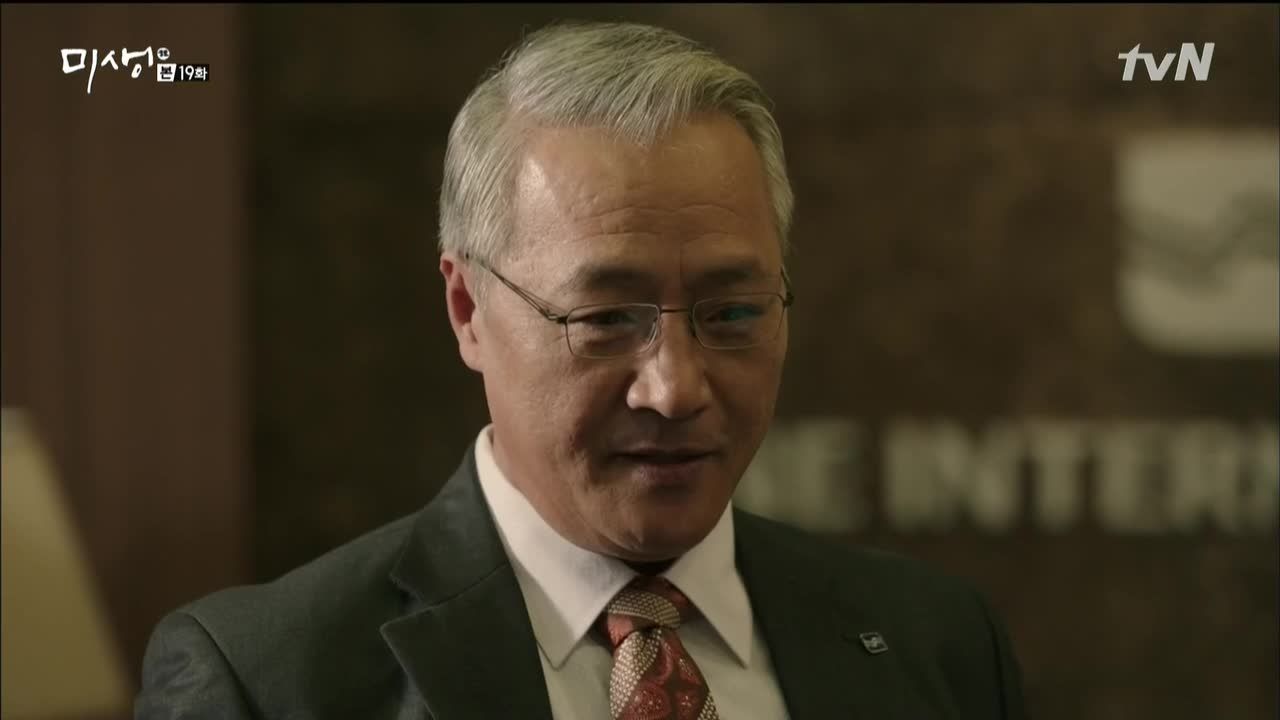 Seok-yul angrily gets off the phone with a representative from Chunsol and wonders aloud how much his boss is getting out of this unreliable company. He reports to Assistant Manager Sung that the company changed their subsidiary materials again, but Assistant Manager Sung doesn't seem to be bothered. He addresses a call from the company and tells them to continue with their plans.
Seok-yul follows Assistant Manager Sung into the stairwell to eavesdrop on his phone conversation. He seems to be appeasing someone about paying back a debt, and that's enough to confirm his suspicions that Assistant Manager Sung is involved with Chunsol somehow.
Walking into the break room, he runs into Young-yi and asks if she's talked to Geu-rae yet. They both haven't been able to speak with him, and Young-yi presumes that the China project is taking up a lot of Sales Team 3's time. It was originally the project that Manager Ma wanted to pursue because of its stakes, but the executive director handed it over to Chief Oh, who unexpectedly agreed to take the project. Baek-ki walks in on their conversation but doesn't add much, knowing Chief Oh's real intent, but Seok-yul expresses his disappointment in Chief Oh.
Just then, Geu-rae walks in fuming and demands that they not talk about Chief Oh this way — they don't know everything behind this project. He holds in his anger and gives them one last warning before going to the stairwell to brood. Baek-ki explains that Chief Oh is probably taking on this project because Geu-rae's employment is on the line. Coming to this realization, Seok-yul asks if there's anything they can do to help like with Deputy Director Sun's project, but Young-yi shakes her head. This is different.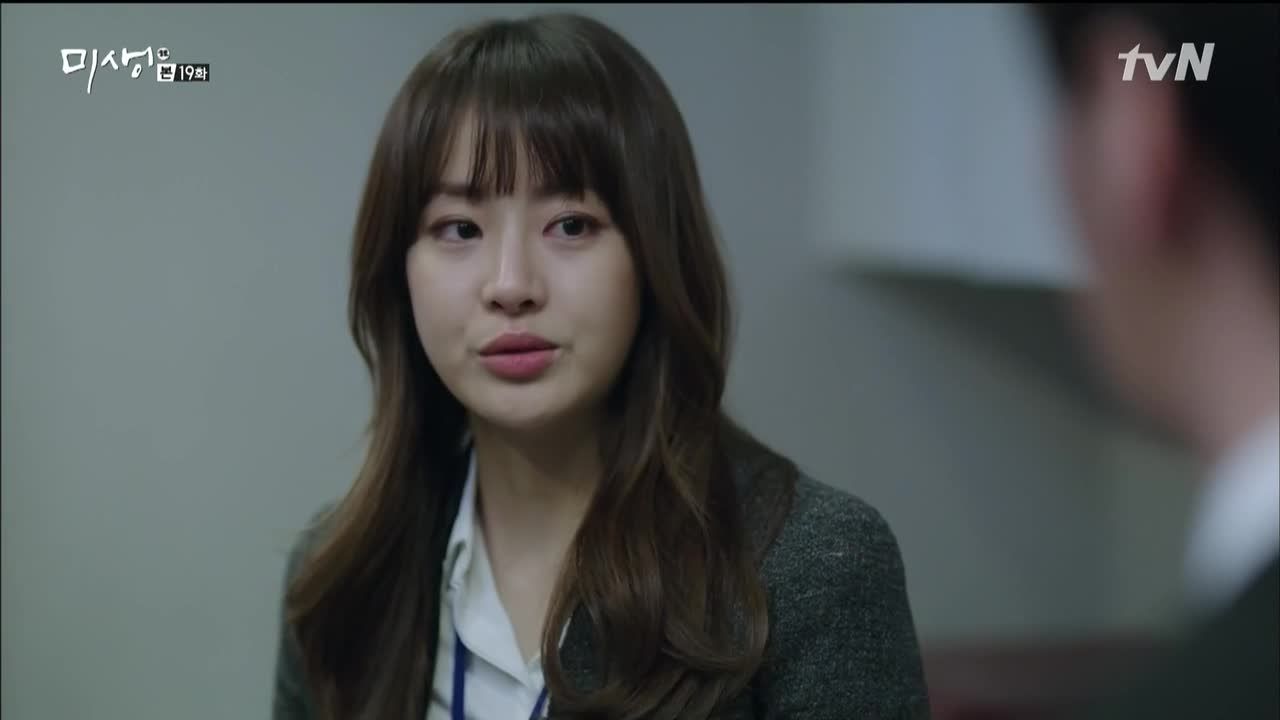 Geu-rae runs into the executive director by the elevators, and he's reminded to drop by to play a game of baduk. Chief Oh is informed to arrive at a dinner with the executive director that evening, and when he arrives, he's surprised at the sight of Geu-rae there as well.
The executive director explains that he felt a responsibility to buy dinner for Chief Oh, since he left Geu-rae in his care (referring to his hand in nepotism). He comments on how Geu-rae never dropped by for a game of baduk, and in that context, he says that a good move for oneself can also be a good move for an opponent. Chief Oh excuses Geu-rae, saying that he has work left to do, leaving the two to face off.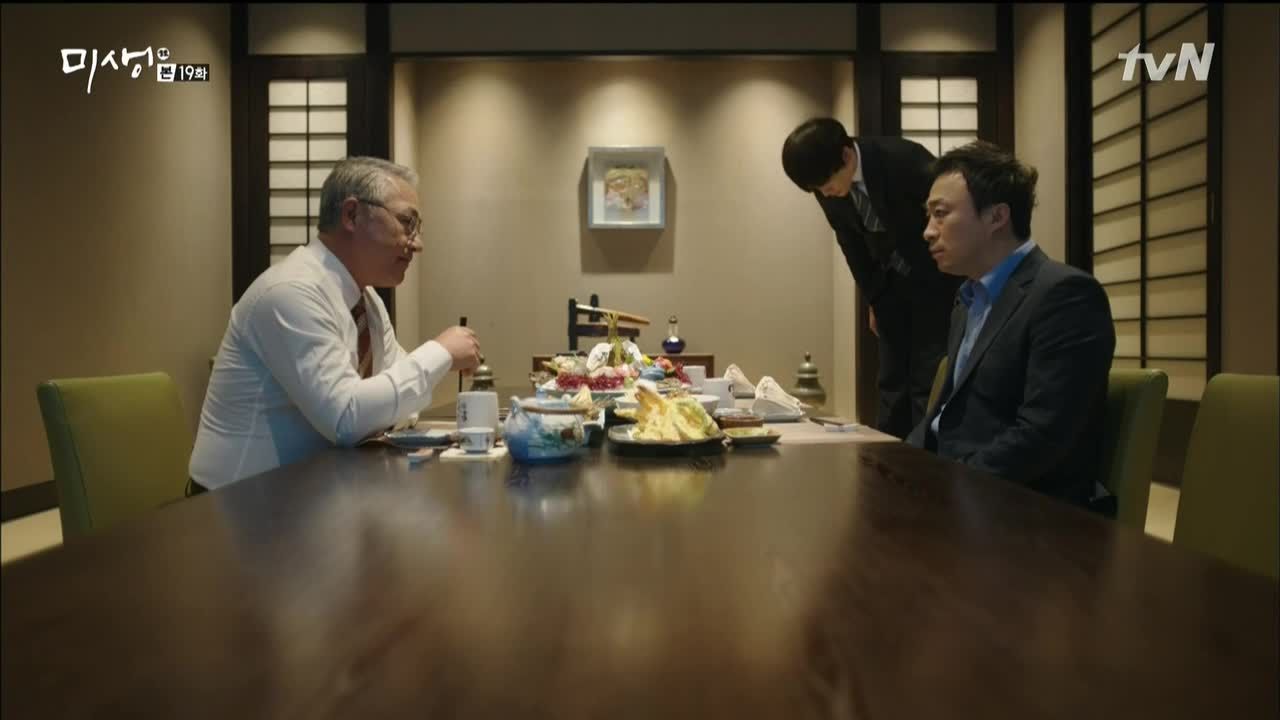 The executive director says that he brought Geu-rae to dinner because he wanted to remind Chief Oh of his reason to follow through with this China project. He doesn't like the win-lose or lose-win situations; he'd prefer the win-win situation and requests that Chief Oh comply.
The next morning, Chief Oh visits the executive director's office to give his compliance, but he won't fall into the trap that he did with Eun-ji. This time, he wants the executive director to take responsibility for any problems that arise from the guanxi. He quickly agrees to do so by offering to sign the contract himself, which catches Chief Oh off-guard.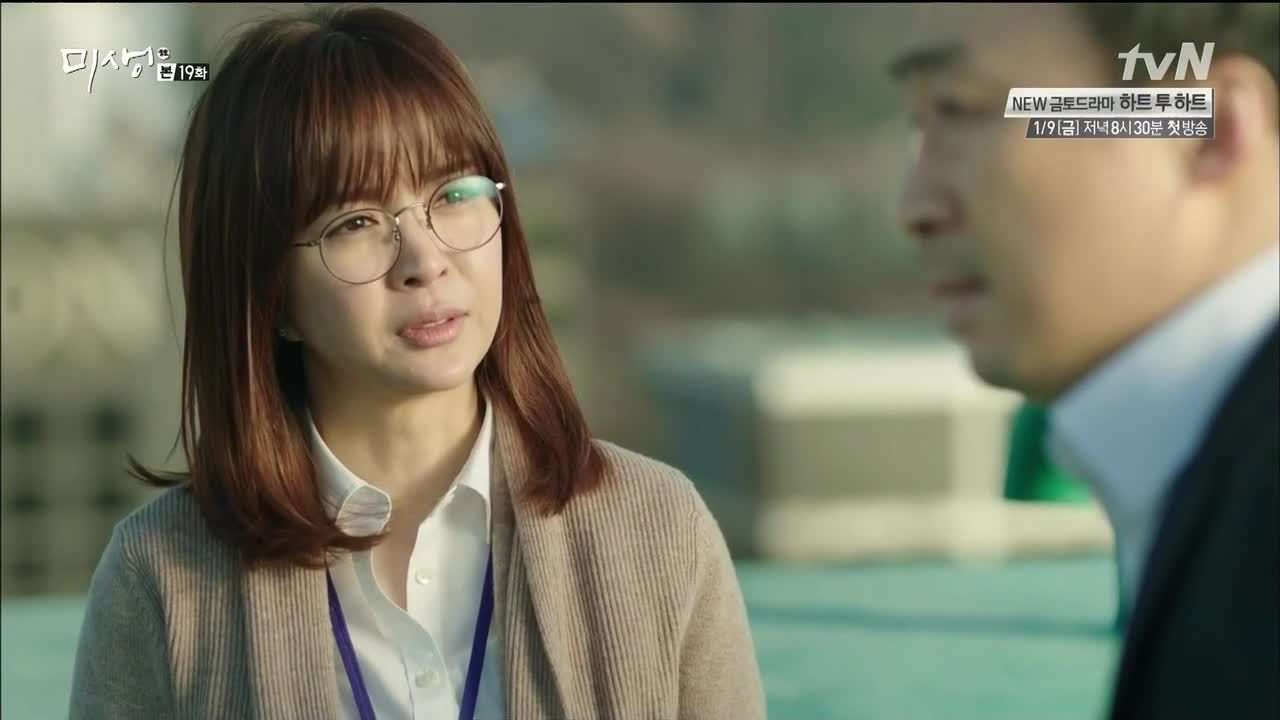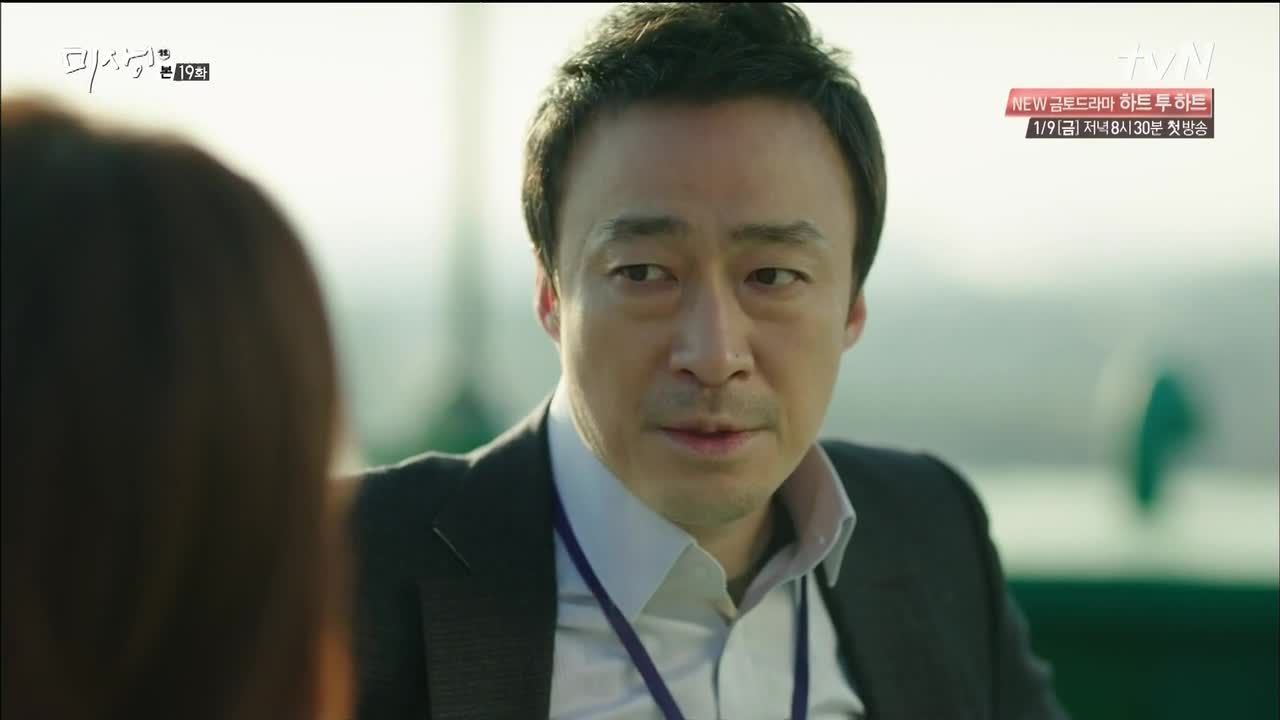 Chief Oh confides in Deputy Director Sun about the executive director, wondering where his team stands in this deal. Deputy Director Sun says that situations change, and Sales Team 3 may no longer be needed as a front-line defense; they may have become the bullet to hit the target. As the executive director is a person to think of his end goal, she advises Chief Oh to do the same.
Seok-yul continues to be bothered by Assistant Manager Sung's attitude toward this whole Chunsol deal and seems even more irked now that he seems to know his ulterior motive. Meanwhile, our steel team duo continue to work as they wait for the elevator, causing Assistant Manager Ha to poke fun at his workaholic colleague. Assistant Manager Kang returns the favor by asking if Young-yi is sick of him smelling like cigarettes yet.
Assistant Manager Ha notes that they have a work environment inspection today and seems annoyed at this useless nuisance. Then the elevator doors open to two beautiful ladies, who catch their attention. Baek-ki boards the elevator, but the two bosses silently follow the ladies back into the office. HA.
They observe the ladies conducting the inspection, with Lead Inspector scolding Newbie Inspector for not following minute protocol. Young-yi comments to Baek-ki that their bosses must be smitten, and she's right, as we see both men watch in their respective characteristic smitten states: Assistant Manager Ha smiles dreamily like a fool, and Assistant Manager Kang stares intensely. They simply watch from afar, but it's hilarious because this is probably the most action they've gotten in this office.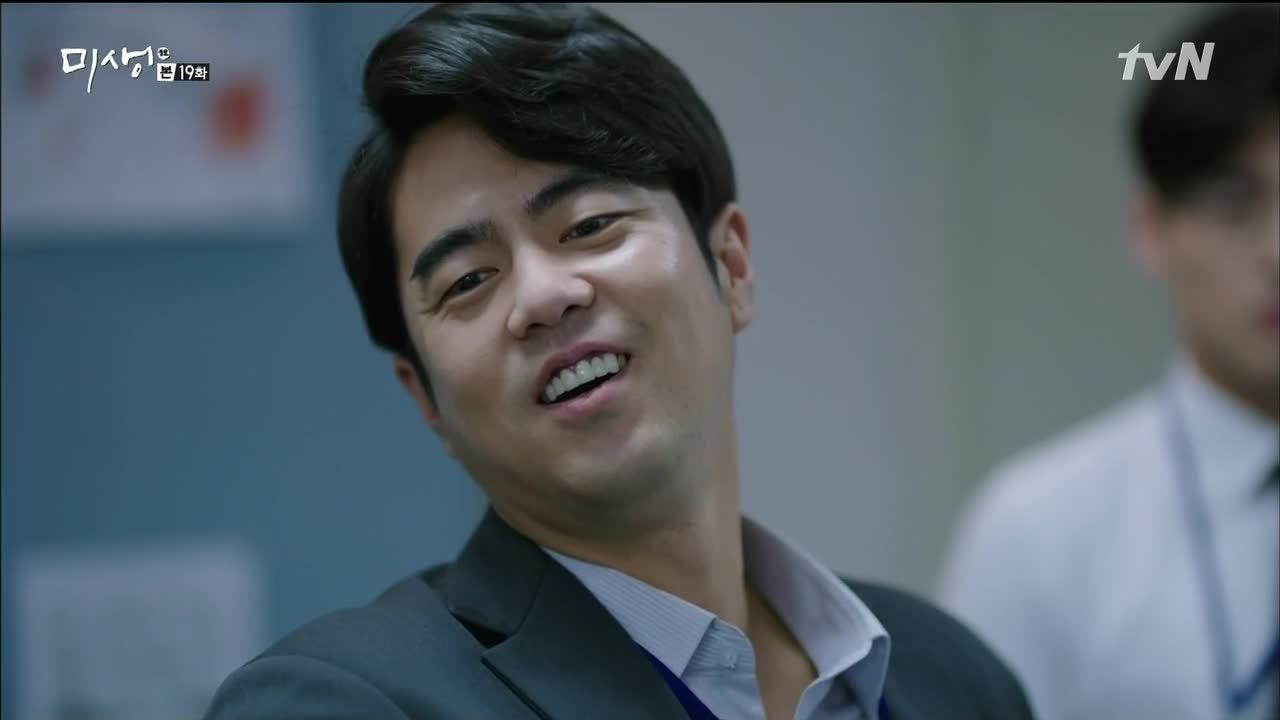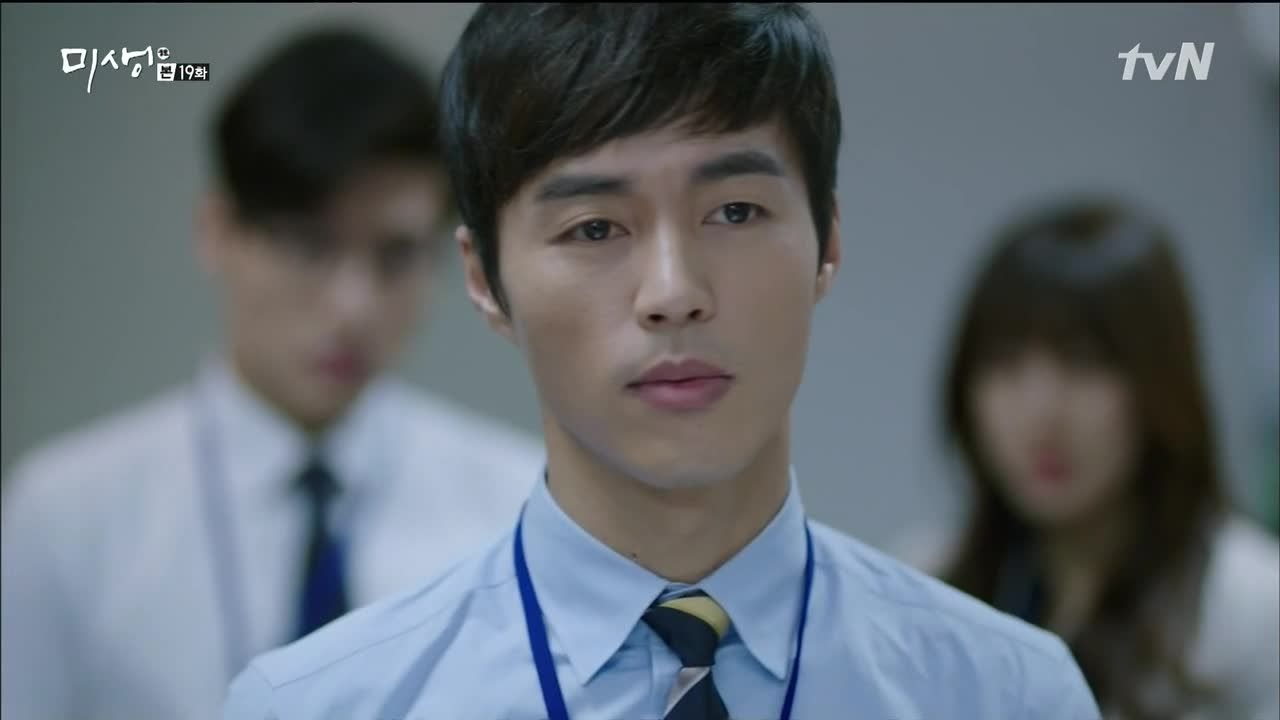 In the break room, Assistant Manager Ha comments on the cute Newbie Inspector and calls the Lead Inspector uptight, but Assistant Manager Kang comes to her defense. Baek-ki walks in the room to make copies, and the conversation continues with both of them insulting each other's taste in women. They turn to Baek-ki, and he states his honest opinion: He prefers the Newbie Inspector. Everyone laughs it off except for Assistant Manager Kang, who silently leaves the room, and Baek-ki quickly realizes his mistake.
Following his boss to the elevator, Baek-ki tries to mitigate his mistake, but Assistant Manager Kang simply turns to him and expresses his disappointment in Baek-ki's taste in women. The elevators open just as the conversation ends, and out comes Seok-yul with a large camera, wondering what wrongs Baek-ki has committed.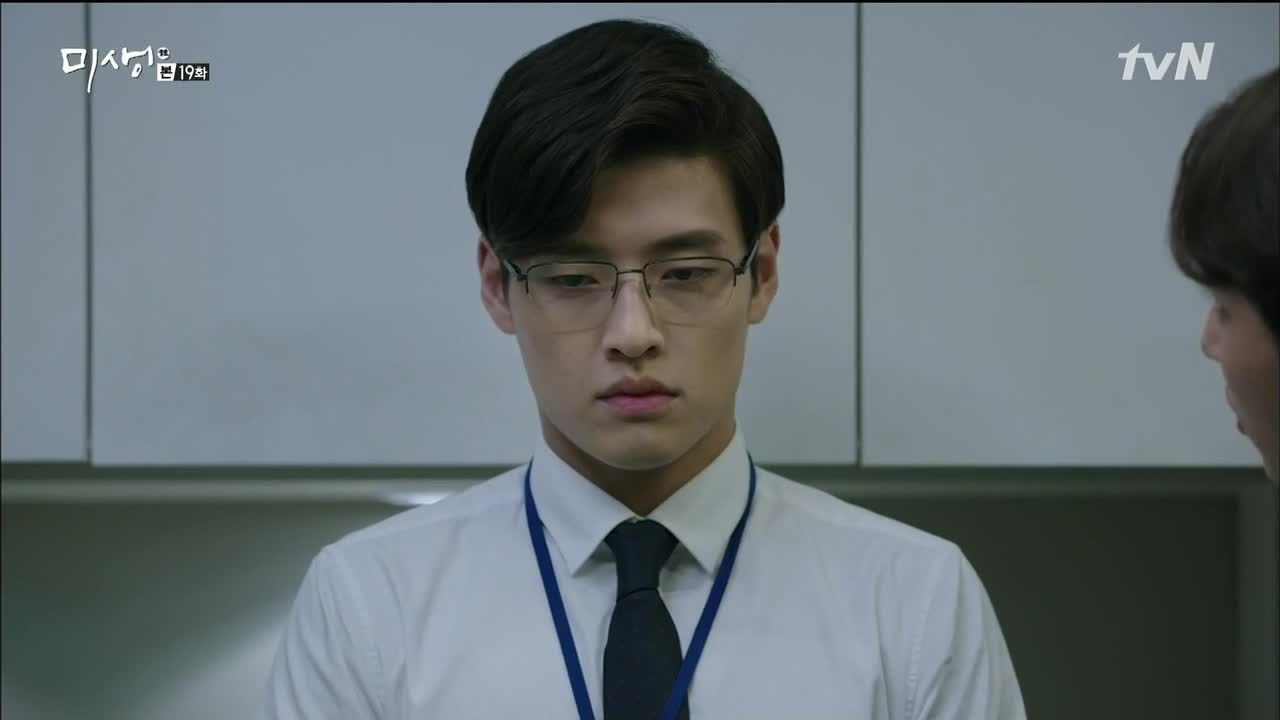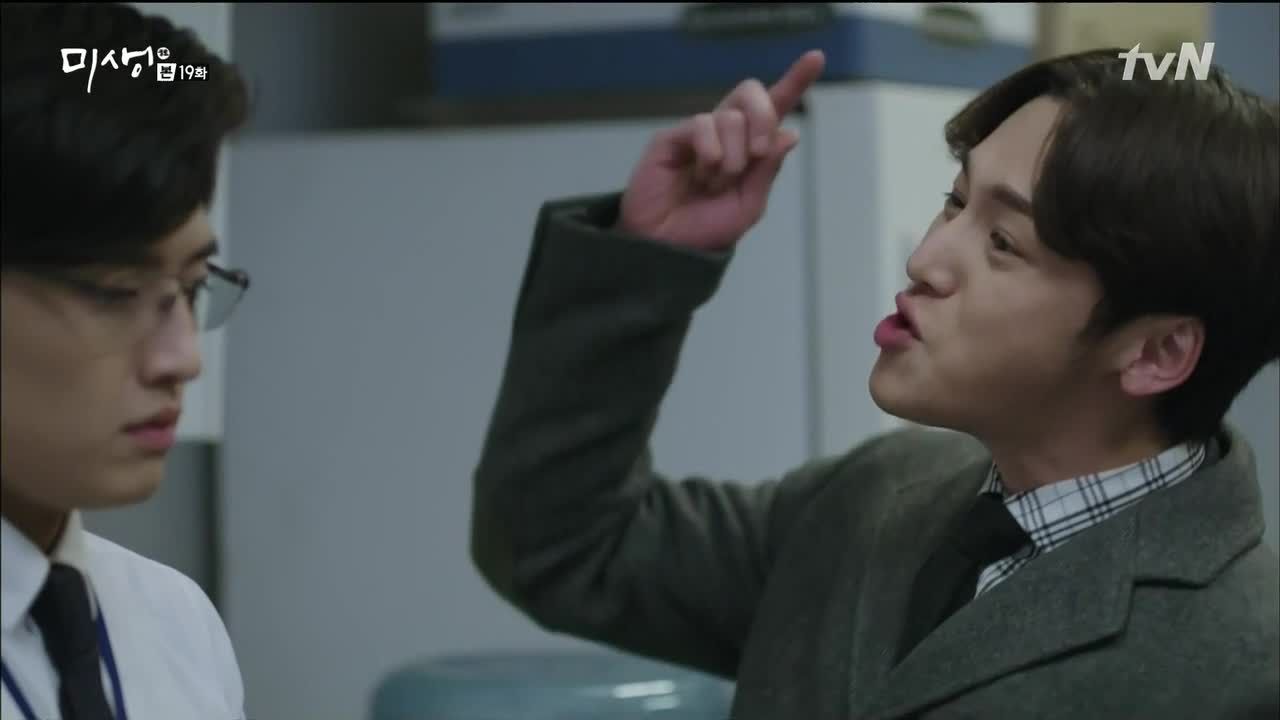 In the break room, Seok-yul lectures Baek-ki on the one rule of newbiehood: Your boss's taste is your bible. Laugh at the bad jokes, eat the same foods, follow them out for a smoke — you match everything to their tastes. And above all of that, it's taste in women. Baek-ki just made a fatal mistake.
Assistant Manager Ha and Young-yi walk in, and he asks Baek-ki if Assistant Manager Kang still won't acknowledge his strange taste. He then turns to Young-yi and asks which of the two women she prefers, and she automatically responds by choosing Newbie Inspector as more attractive. She even adds that she plans on working on her aegyo now. Baeki-ki and Seok-yul look at her wide-eyed, and Assistant Manager Ha gives her a thumbs up. She's so much better at this than Baek-ki.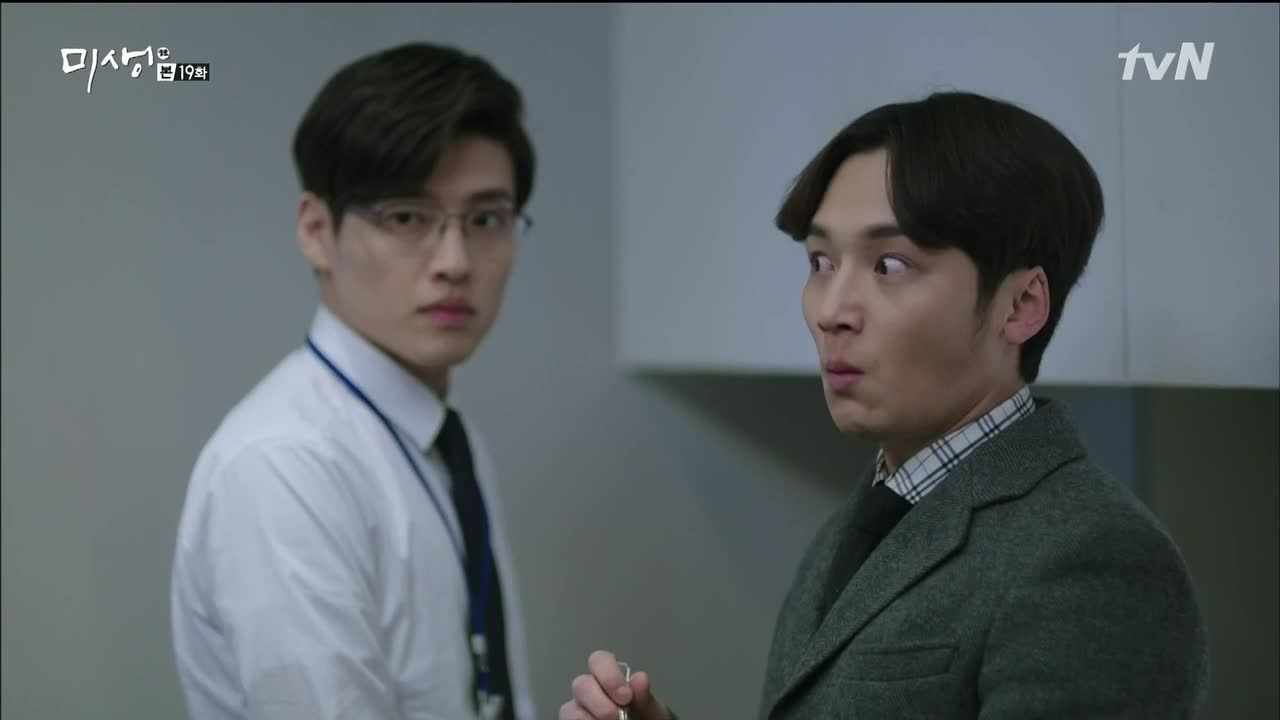 Seok-yul leaves with his big camera and follows Assistant Manager Sung late into the night. He sees a car pull up next to his boss's, and as expected, it's the representative from Chunsol. He starts taking pictures of their interaction, but he stops suddenly looking a bit surprised, though we don't see what he saw.
Geu-rae is ready to leave for the day, and he catches Seok-yul going down in the elevator. Seok-yul seems a little shaken, but at the sight of Geu-rae, he gives him a hug with some encouraging words. He runs back into the elevator, leaving Geu-rae to give us some introspective words: "It's like that. Sometimes, life gives you a malicious quiz and leaves you with hints in the most absurd places. And there's no guarantee about the resulting solution."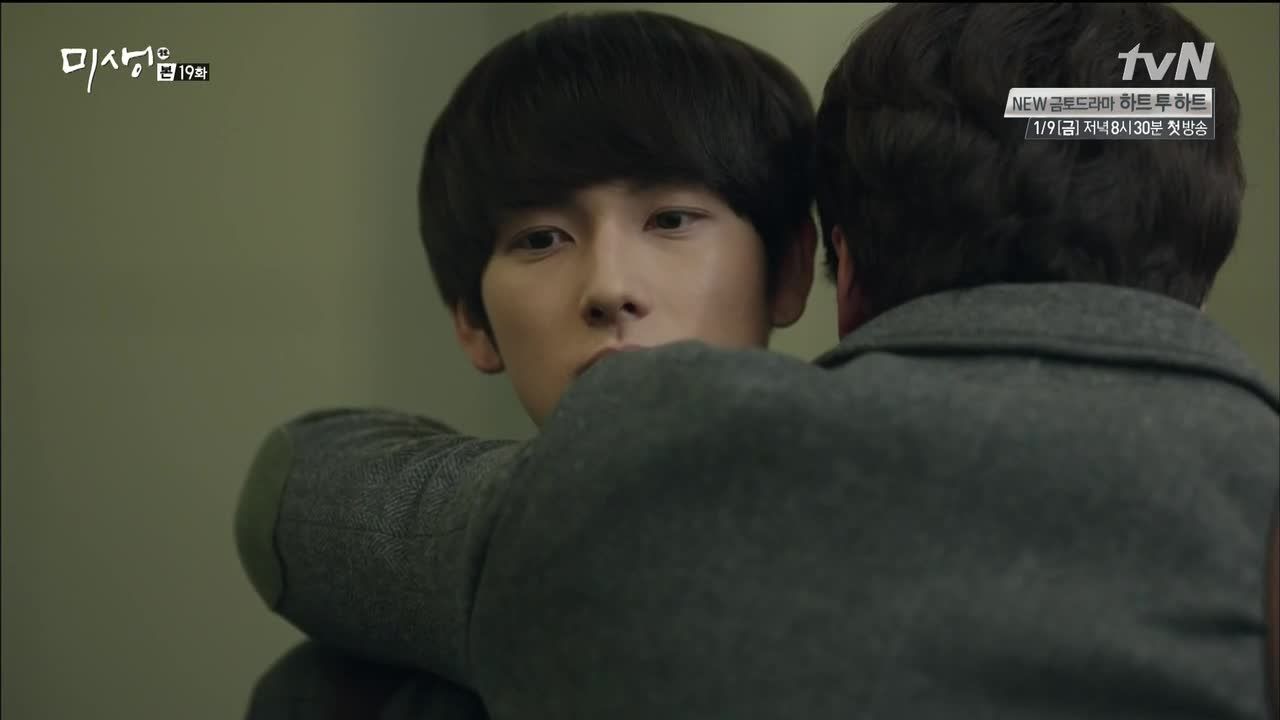 The executive director visits Sales Team 3 to show his support for their work, and Geu-rae tells us that his team became workaholics to reach the end. All they did was work, until one day when they get a visit from the head office. They received a report regarding Sales Team 3's project under the executive director, and more specifically, about a recording. Uh-oh.
Although Chief Oh had quickly tried to pacify his worries, Assistant Manager Seok in China reported his conversation with Sales Team 3 to his boss, which then got relayed to the Chinese business. The report was from the Chinese counterpart, who had wished to withdraw from this strange circumstance of a supposed recording.
All of the executive director's previous business dealings are investigated, and he's forced to explain his method of business. Chief Oh is interrogated on his take on this business deal and his suspicion on the level of guanxi. He actually tries to defend the executive director by making vague statements on the relative nature of guanxi depending on the risks and benefits, but the interrogators know that Chief Oh was suspicious of this sort of deal, as he didn't include the executive director's excessive guanxi in his version of the contract and further investigated their Chinese partners.
The president visits the executive director to inform him that official protocol will be followed. The executive director argues that the president was well aware of this method of business, and the president acknowledges this. But the head office is a different story. He's going to have to prepare himself.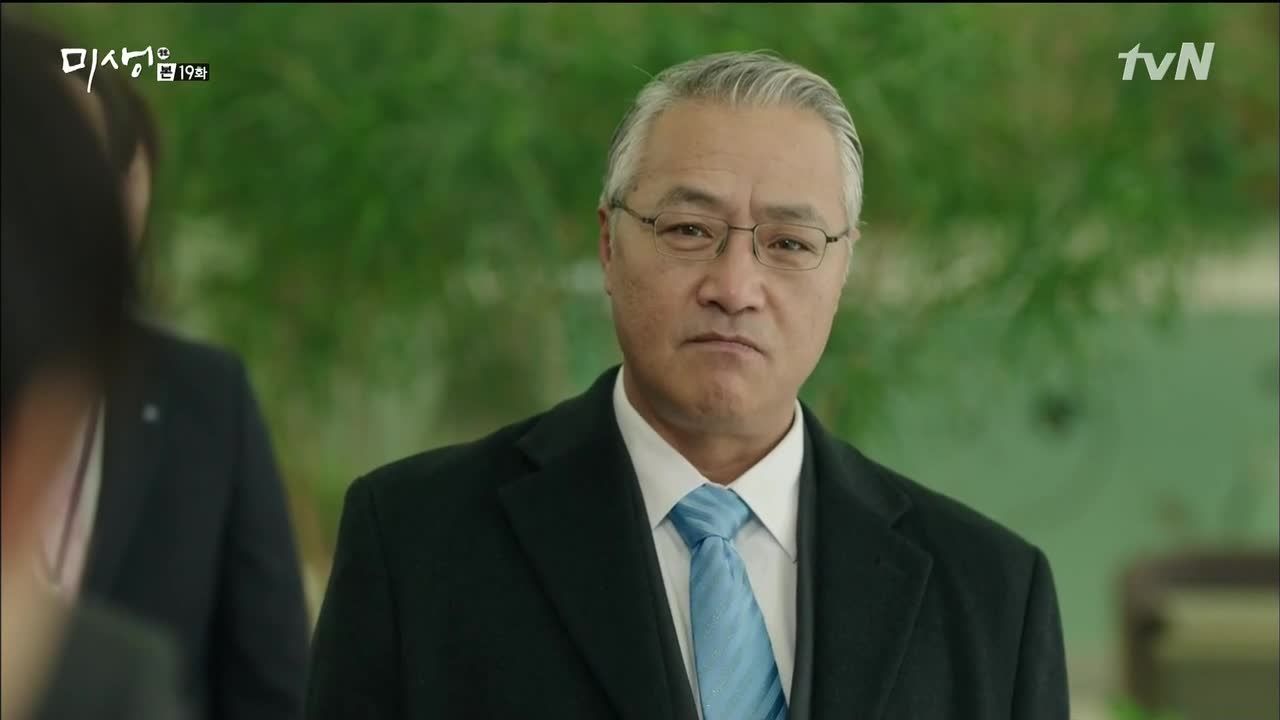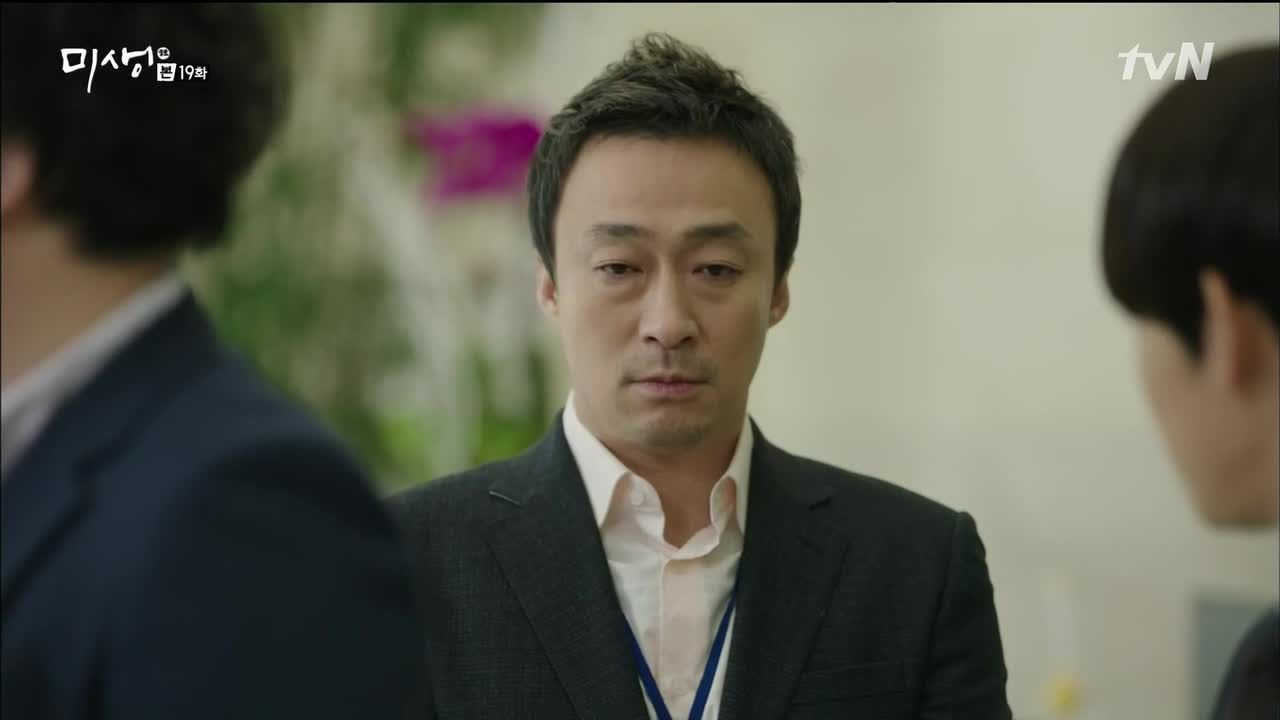 The executive director exits the elevator and is met with all of his employees. They're bidding him farewell, and the executive director takes one more look at Chief Oh before taking his leave. Chief Oh sits at his desk looking at past projects and reminiscing about the time when they proudly worked together as a team.
The executive director is transferred over to an unlisted branch of One Global, while Chief Oh and Sales Team 3 are exempt from any penalties due to their integrity in handling the issue. But integrity has its consequences, as rumor of this guanxi case gets out and many Chinese businesses refuse to conduct business with One International.
As the days go by, the blame continues to stack onto Chief Oh's shoulders. Geu-rae admits, "Even the strong Chief Oh started to falter. And I knew that it was all because of the rash actions of one contract employee."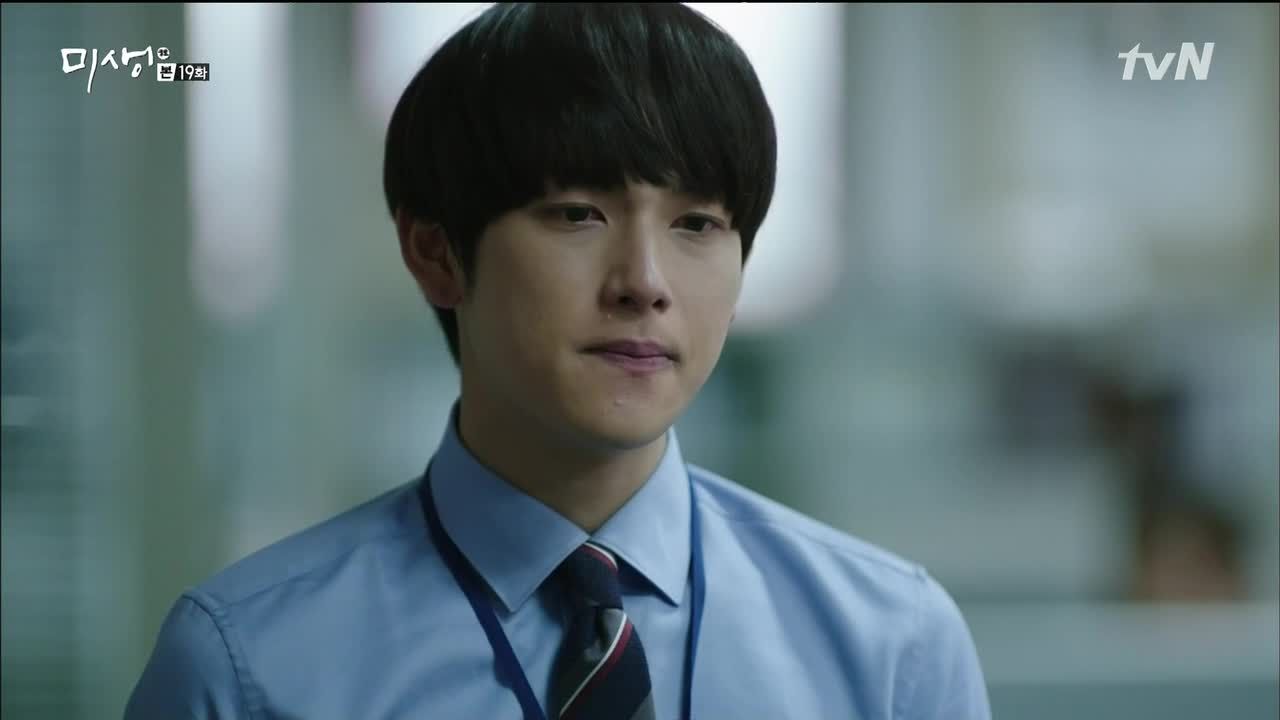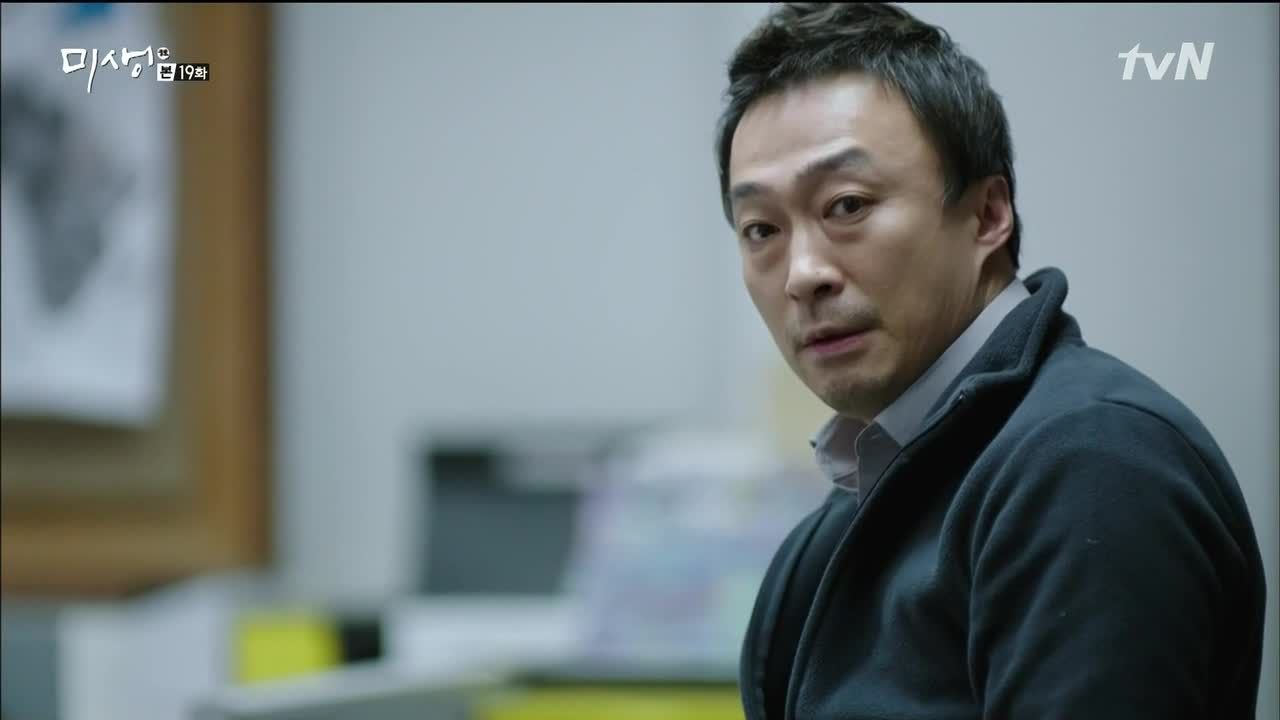 Chief Oh scolds Geu-rae on the roof for trying to take the blame. He says that he's the one to take responsibility because he's the one who started all of this mess, dragging in the team and clueless Geu-rae. Seeing Geu-rae continue to mope, Chief Oh yells at him for his self-blame and tells him that people in higher positions are supposed to take responsibility.
He warns Geu-rae of the future difficulties at work, since this is on a greater scale than Chief Park's scandal. But Geu-rae is good at this kind of stuff — being patient and enduring. Sales Team 3 will all have to endure. He tells Geu-rae to keep his head up and stand up straight. They've got a long road ahead.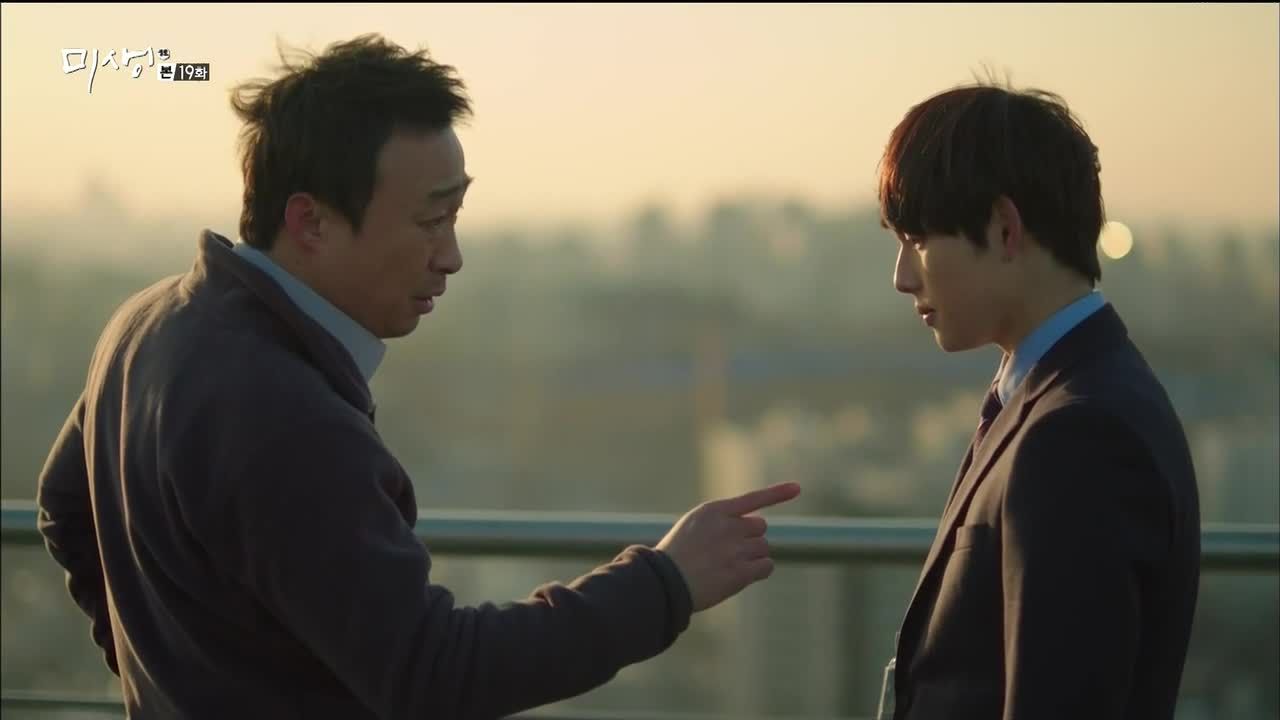 The resource team has trouble with their Chinese business partners, who request reevaluations of their contracts with the company because word got out about the agent stuck in the Poshin deal. They blame Chief Oh for bringing this upon them, and Young-yi tries to help by jumping onto the task of finding new businesses. Assistant Manager Ha understands Young-yi's attempt to help Chief Oh, but there's a bigger impact on the company than just their team: All the other teams with Chinese business partners will be affected.
This is true, as Chief Oh sits through an argument over the Poshin deal, which has caused a fair amount of frustration and hatred on their company online forum. After work, Chief Oh goes out to drink with Deputy Director Sun and Chief Go while Geu-rae goes out with his newbie colleagues. They seem to be drowning in their misery, but there's nothing much the others can do to help. Geu-rae crawls back home in his drunken state, and all his mother can do is cook ramen for him and look at him with sympathy.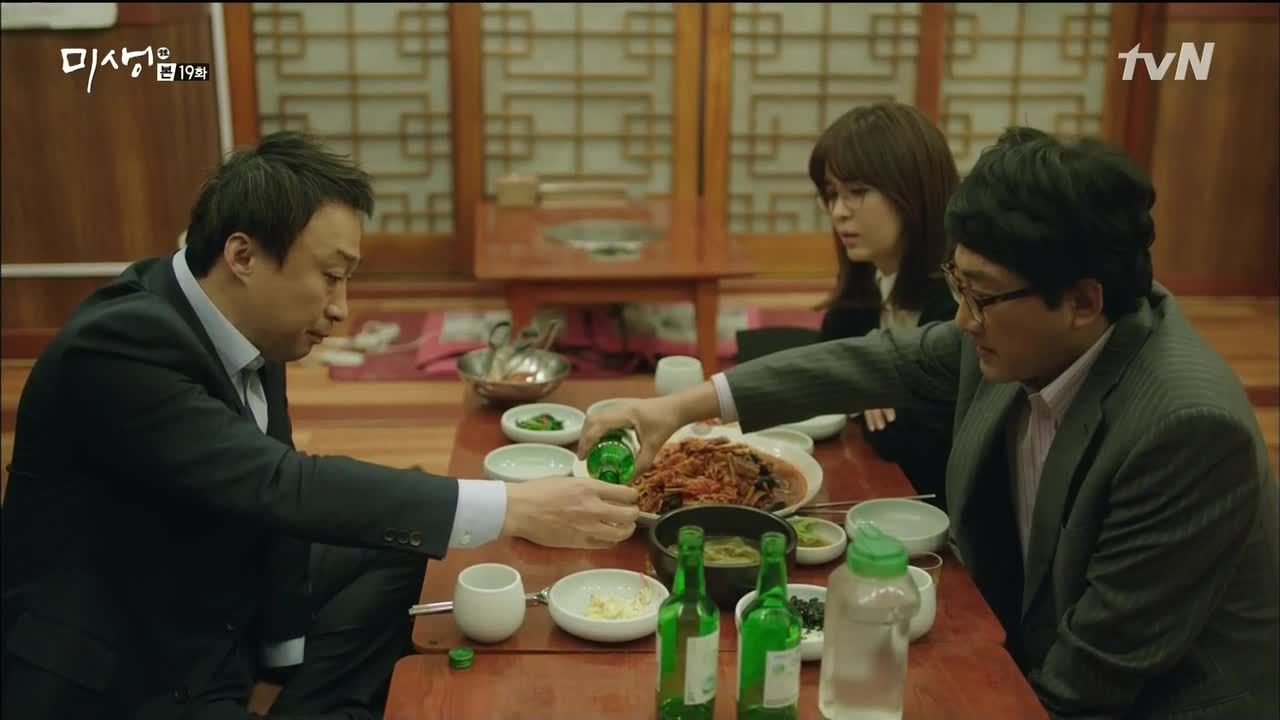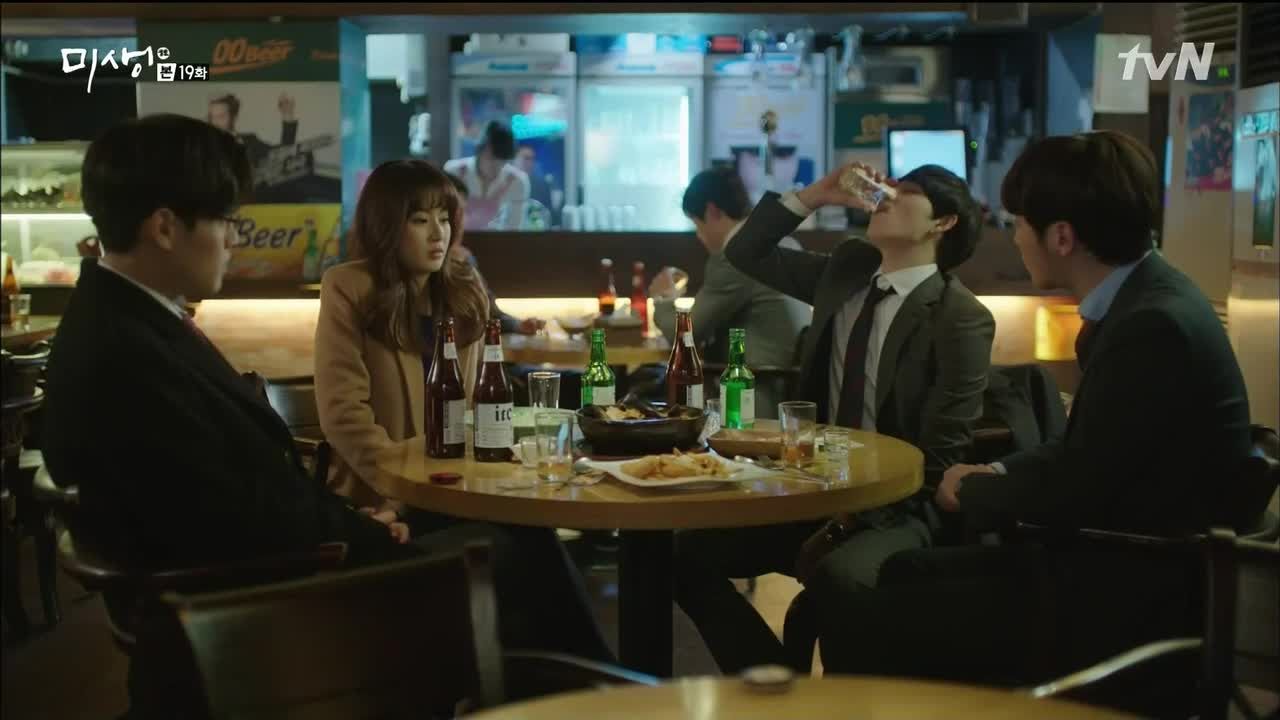 Chief Oh goes to meet the executive director, who tells him that he was shocked to be dismissed from a company he had dedicated his last 28 years to. Speaking in metaphor, he says that he thought little of keeping both feet on the ground to reach the stars, but he realized that the company wanted a giant who could keep both feet on the ground while still looking to the stars. Chief Oh says that he thought at one point that the executive director would become that giant.
The real reason the executive director called Chief Oh was to thank him for not getting him into more trouble with his motive for rebate. Chief Oh says that he didn't mention it only because he didn't have solid evidence of this rebate; he had a conviction but no confirmation, just like with Eun-ji.
Just as Chief Oh is about to leave, the executive director tells him that while he can reclaim his esteem in his new position, Chief Oh is going to have a harder time. Under his name, he'll have difficulty conducting business as usual.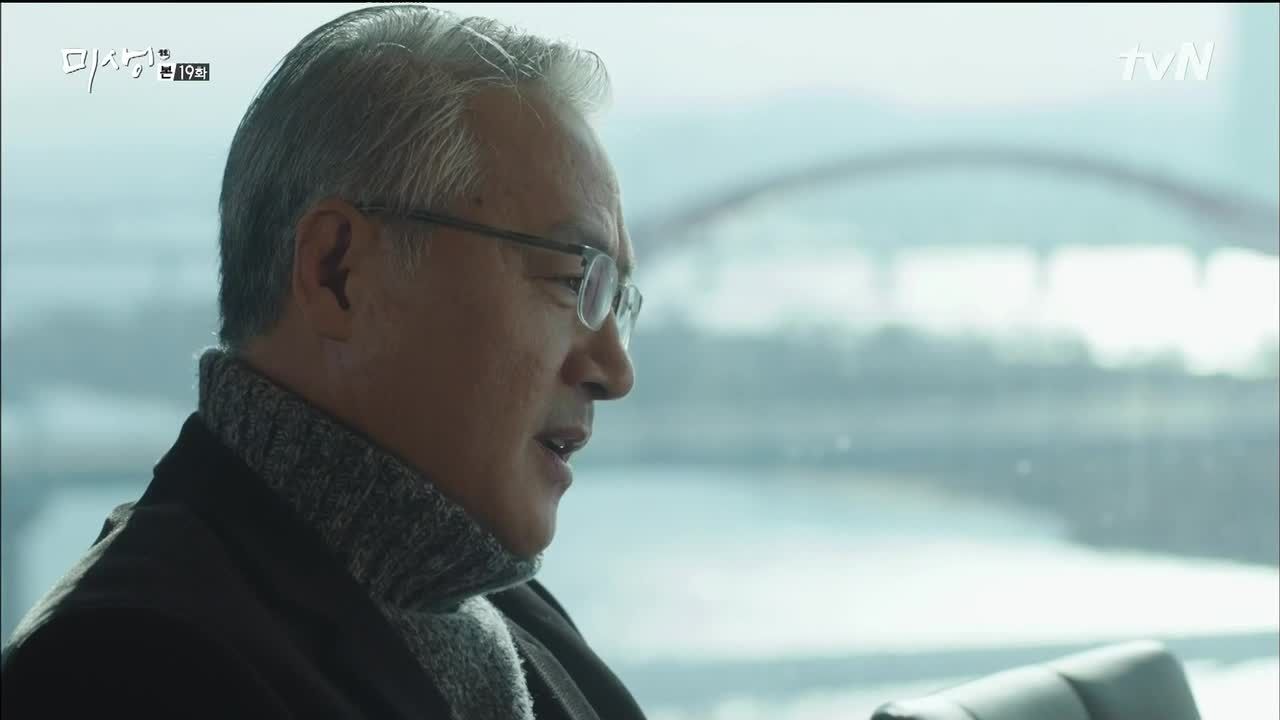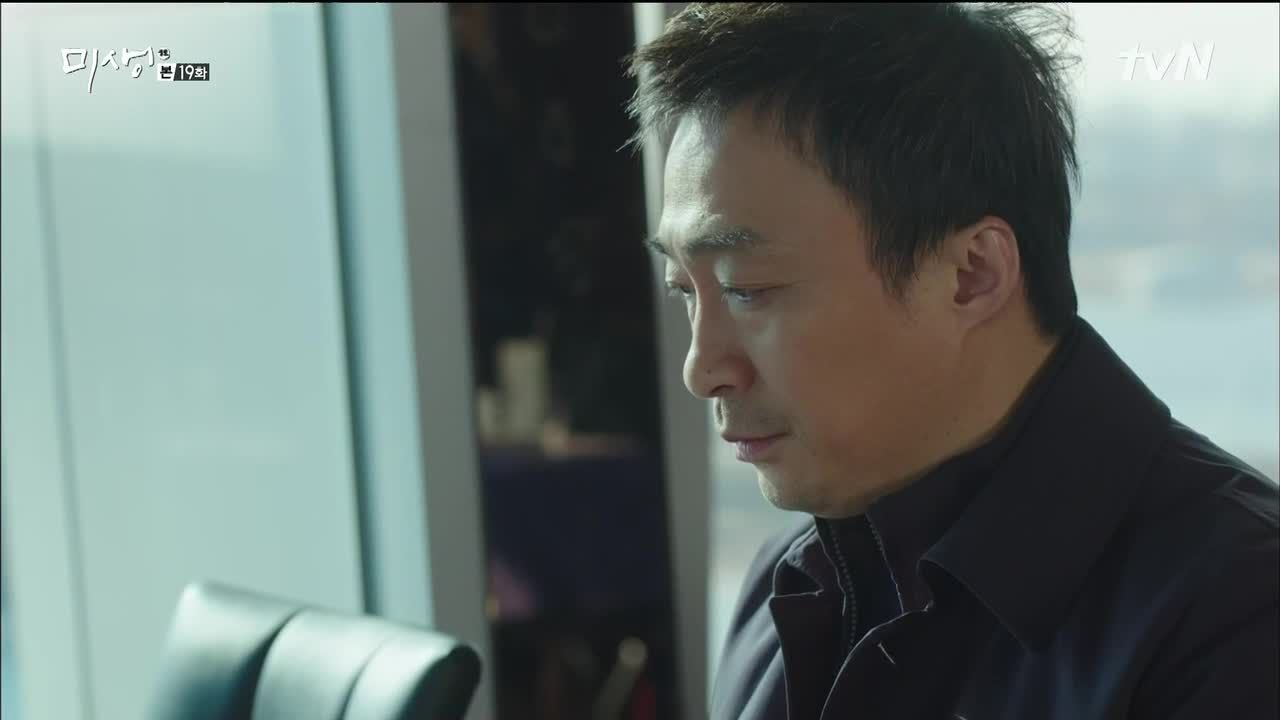 Unfortunately, the executive director's words prove to be right, as Sales Team 3 struggles to find a new project. Other teams are noncompliant, and even their current project approvals are now back to pending. Chief Oh is told that all of his past projects are currently being rejected. Other teams are resolving the issue by explaining that Chief Oh's actions don't represent the company but are just a personal stance. Even the company is starting to resort to Chief Oh's possible dismissal as an excuse to continue business. Whaaat?!! Noooo.
Chief Oh tells Deputy Director Sun that he needs to leave for his team to survive, but she tells him that that's not the best that they can do. The company may favor a quick, short-term resolution to this problem, but that won't be the answer. He admits that he's prepared to submit his resignation letter, but there's one thing that makes him hesitate: Geu-rae.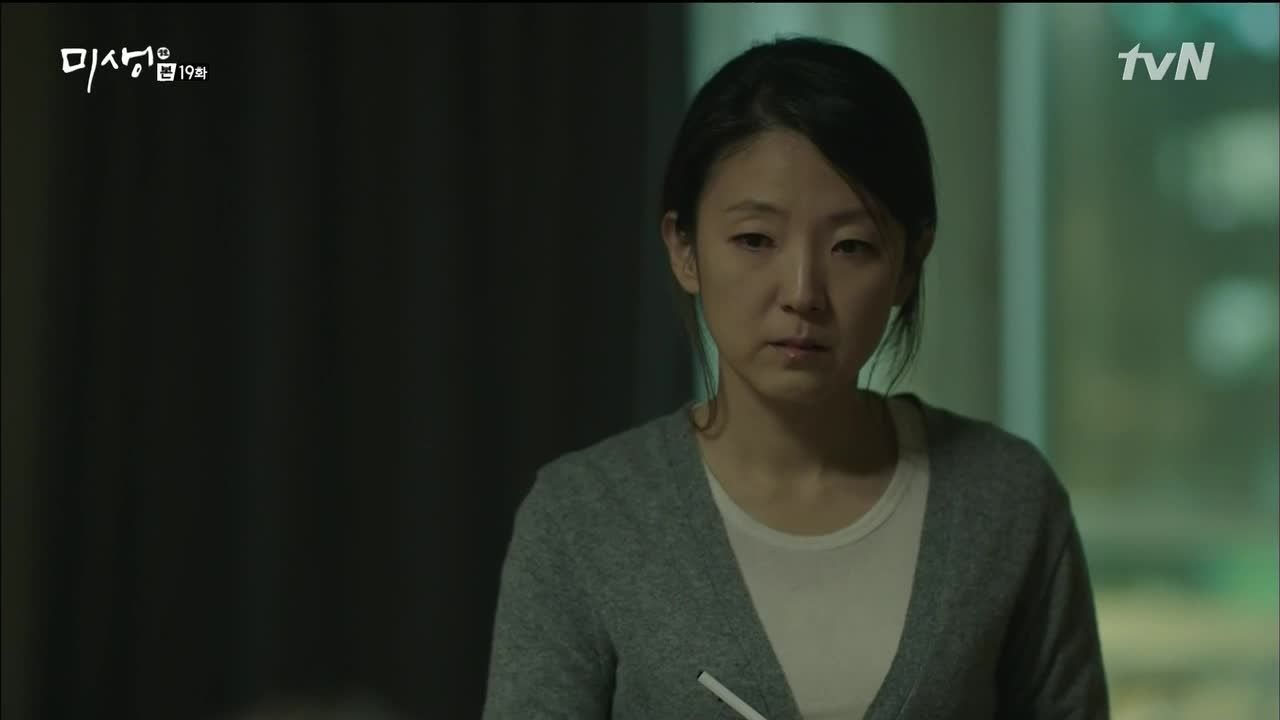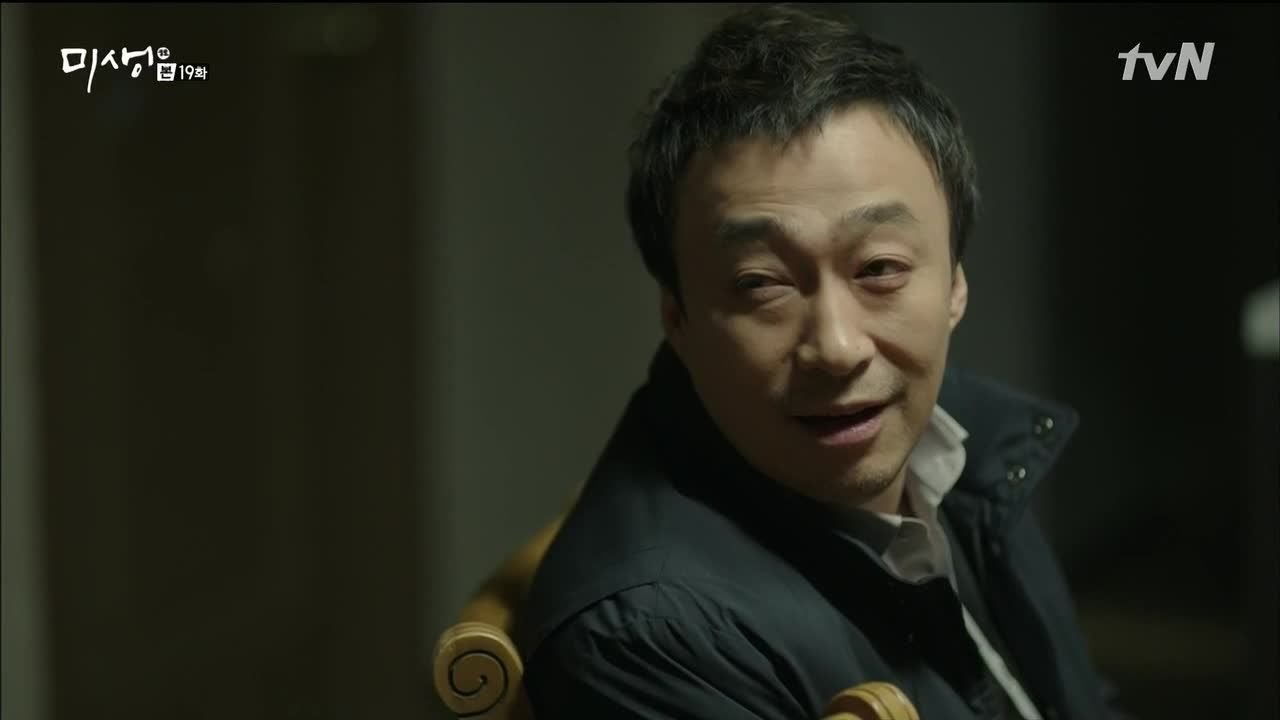 Chief Oh wobbles home drunk and asks his wife if it would be okay if he resigned. She says that of course it wouldn't be okay and asks if he's resigning or being forced out. Chief Oh lies that he's the one resigning, but she knows better. She agrees to let him quit but reminds him that he has three children. Then she walks around the house listing things he needs to buy with the company's employment benefits before he officially leaves, which puts a smile on Chief Oh's face. Aw.
He walks in the next morning in a good mood and with a hop in his step, greeting Young-yi, Seok-yul, and Baek-ki in a cheery fashion. When he arrives at his desk, he puts up his family picture and takes out his prepared resignation letter. He leaves it on the manager's desk and goes back to clean up his things. When Geu-rae arrives, he's crushed to see his beloved Chief Oh packing his things to leave the office.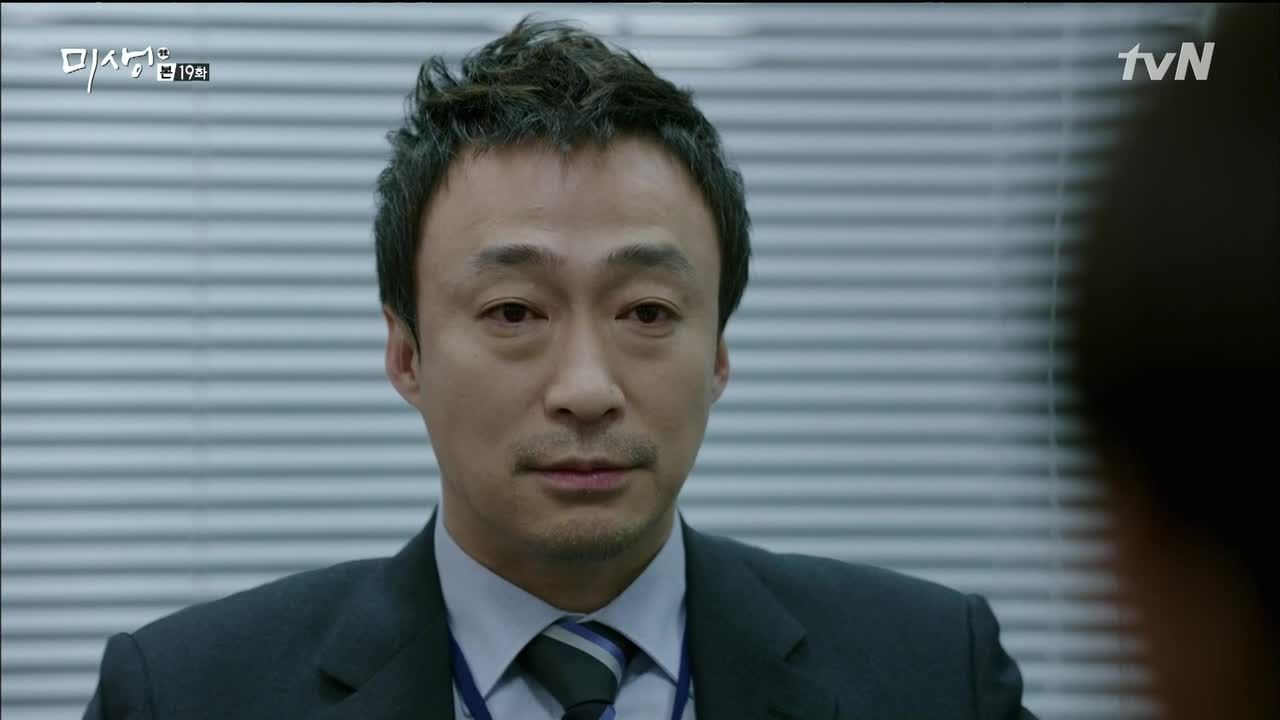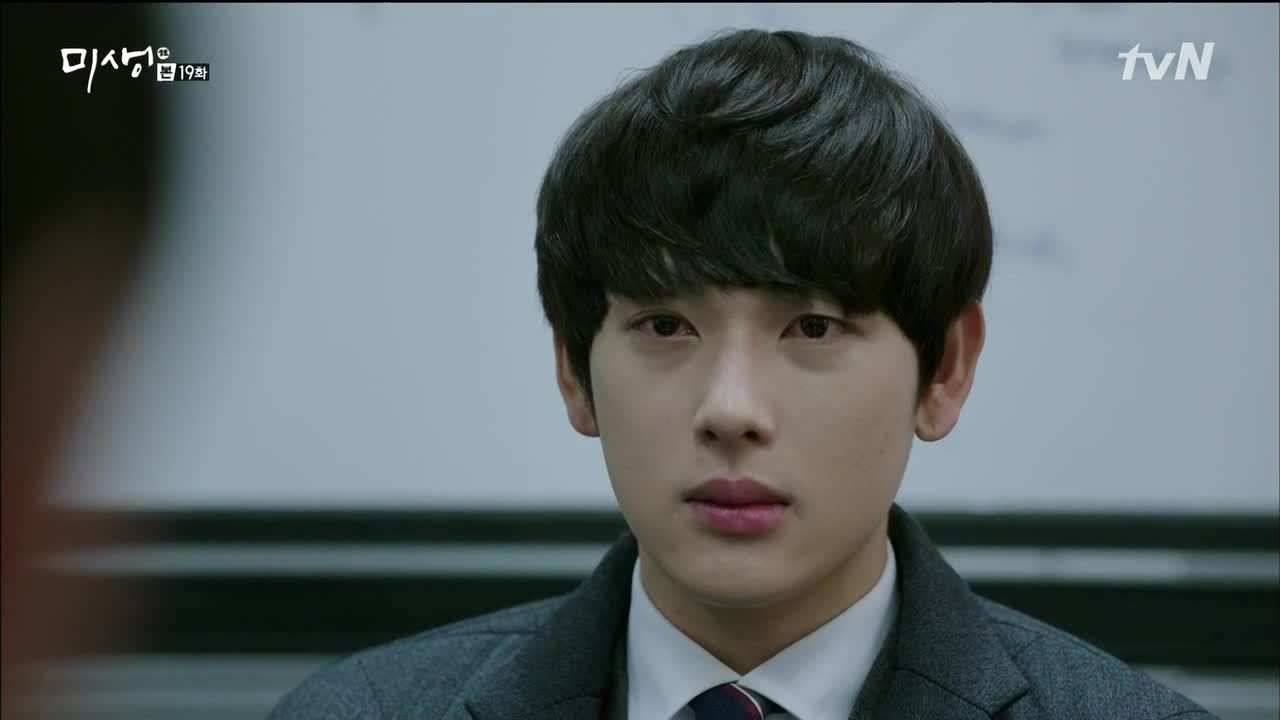 In the meeting room, Geu-rae tears up as Chief Oh tells him that he's just leaving, not dying. He tells his hardworking Geu-rae to endure and win, but that he himself has endured long enough for his legs to go wobbly. He requests that Geu-rae see the end, no matter how difficult. "There are things in life that we start even with a predetermined end. Jang Geu-rae, I'm sorry that I couldn't take responsibility until the end."
When he confronts Deputy Director Sun about his resignation, she tries to persuade him out of it, saying that it will pass. But Chief Oh has made up his mind, and he tells her to get promoted so that she can help Geu-rae, Dong-shik, and his Sales Team 3. He also shares a moment with Chief Go, keeping a smile plastered on his face.
When he returns to his desk, all the newbies are lined up. They silently shake Chief Oh's hand, and it's clear that each person was impacted by him in some way. As he walks out, he leaves Geu-rae with his work slippers and the newbies hold back their tears. It's pure heartbreak.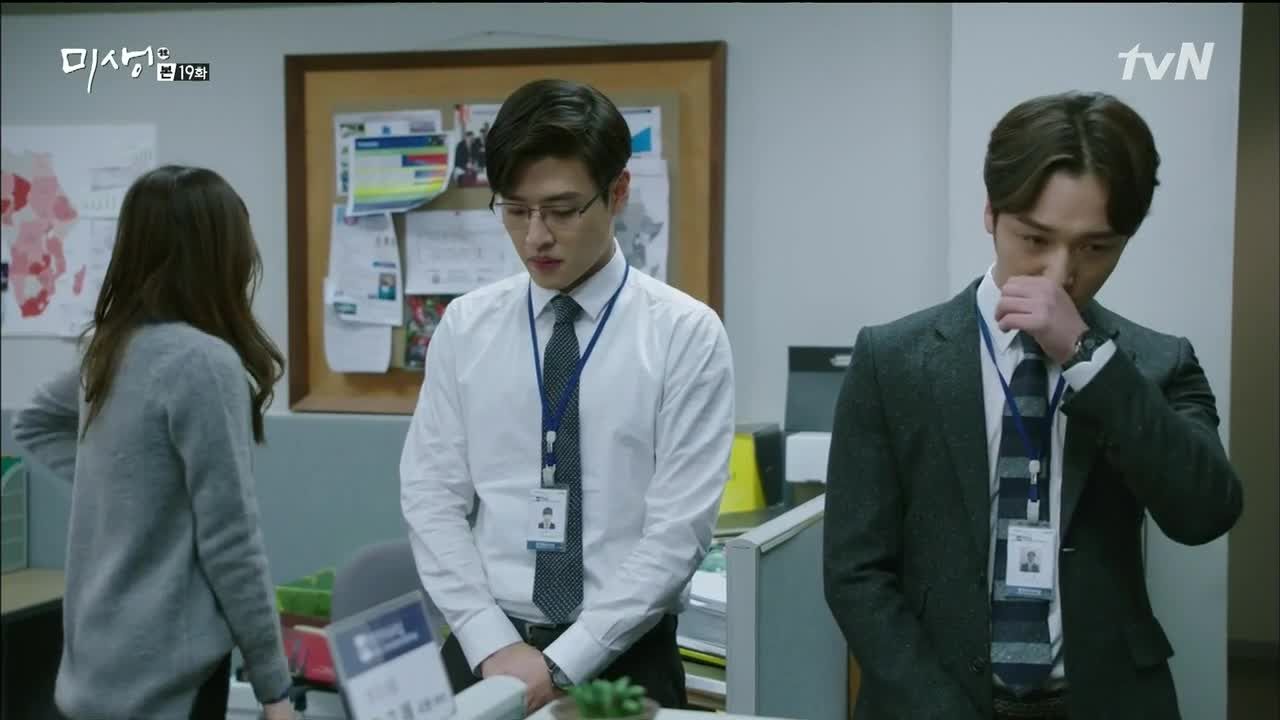 Sales Team 3 goes out for one last team dinner, and they remember the old days when Chief Chun and Dong-shik were much younger. Dong-shik goes outside to take a leak, but Chief Chun finds him outside in tears. He can't seem to stop crying, and Chief Chun lets him be.
Geu-rae follows Chief Oh home, where he's reminded one more time to endure and win. It almost seems like any other day, as Geu-rae bows and leaves without taking a look back. Geu-rae walks back home, thinking about his growth with Chief Oh, and Chief Oh broods a little more outside on a bench.
When Geu-rae arrives home, the floodgates let lose, and all the tears he's been holding back stream down his face. He breaks down with nothing else to say but, "I'm sorry," over and over and over again.